DISCLOSURE STATEMENT: This post may contain affiliate links. As an Amazon Associate, I earn from qualifying purchases. This is at no extra cost to you. I will only share links that I feel are quality products related to crochet and relevant to the task described.
Just in time for Fall!! This a round-up of some free crochet pumpkin patterns. There are so many free pumpkin patterns out there. I have sought to gather a fair representation of the different styles of crocheted pumpkins out there.
Disclosure: the following patterns and images are NOT mine. Please credit the original pattern author per their wishes. Thank you!
I love 3amgracedesigns. They have a "signature look" in their Kawaii Cuddlers. The two-tone stem/leaf looks especially fantastic on this pumpkin. You will need a size H crochet hook to make this cuddly guy.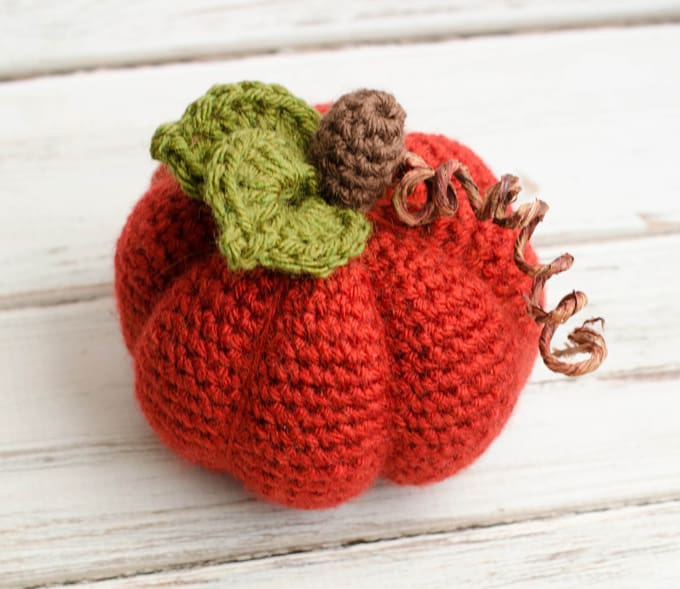 This beautiful pumpkin requires a 4.00 mm hook. The blog also contains several other pumpkin patterns if you like this designer.
These cuties require a 4.00 mm hook. The shape is made by sewing through the pumpkin and pulling the string. If you want the smiling face, you will need 8mm safety eyes and black embroidery thread.
4. Striped Pumpkin by Nicki's Homemade Crafts.
This pattern requires a 6.00 mm hook. I included this pattern because of the unique striped design. This pumpkin can have more of an exotic and dynamic look than the traditional solid-colored pumpkin.
5.Pumpkin Pot by Hooked on Patterns.
This little pumpkin is decorative AND functional! Use chunky yarn and a 6.00 mm hook for similar results as the designer.
The pattern for these small, medium, and large sized pumpkins can be downloaded from the site. The pattern is completely free; however, the site allows you to buy yarn to make your pumpkins with. I personally love Caron Simply Soft yarn. It feels so luxurious.
A size H crochet hook is used with this pattern.
These pumpkins are about 3×2 inches and require a size H crochet hook. They truly do look knit!
This free revelry pattern says it needs both a 2.00 mm and 2.35 mm hook for different parts of the pattern. The original pattern is in Japanese, which may be why a 2.35 mm hook is called for. I personally have never heard of a 2.35 mm size hook. I would just try the whole thing with my 2.25 mm (B) hook.
This pouch is so unique. The leaf garland at the opening/top is beautiful. Use it as a pouch for little treats or just put fiberfill in and close it off. Grab a 5.0 mm (H) and a 4.0 mm (G) hook for this pattern.
I love that the designer of this pattern shows several ways to use these petite little pumpkins. My favorite use is pictured above- garland! She also shows how they can be used as name card holders.
This pattern uses a 4mm hook and medium weight yarn.
And that's it! I hope you have found the pumpkin pattern you were looking for! Happy crocheting!