DISCLOSURE STATEMENT: This post may contain affiliate links. As an Amazon Associate, I earn from qualifying purchases. This is at no extra cost to you. I will only share links that I feel are quality products related to crochet and relevant to the task described.
This is a round-up of high-quality crochet patterns of adorable dinosaurs. The first section of patterns is amigurumi dinos. The second section is of other dino-themed patterns. Links are in titles!
Amigurumi Dinos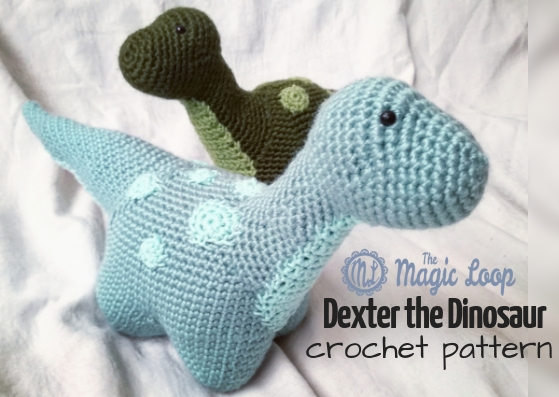 This adorable dinosaur is about 7″ tall and 13″ long. You will need a 4mm crochet hook to make it.
This cute kawaii cuddler is about 12″ across and 8″ tall. You will need a 3.25mm hook. I love the way the head wraps around on this guy.
This adorable dinosaur requires a 3mm crochet hook. Scroll down the article linked above for an English translation of the pattern.
This pattern is a free Ravelry download that requires a 4mm hook. This precious dino reminds me of Yoshi in Mario Kart.
This cute 11″ dino requires a 2mm crochet hook and super fine acrylic yarn. I love the colors she uses. They really make this dino baby-friendly.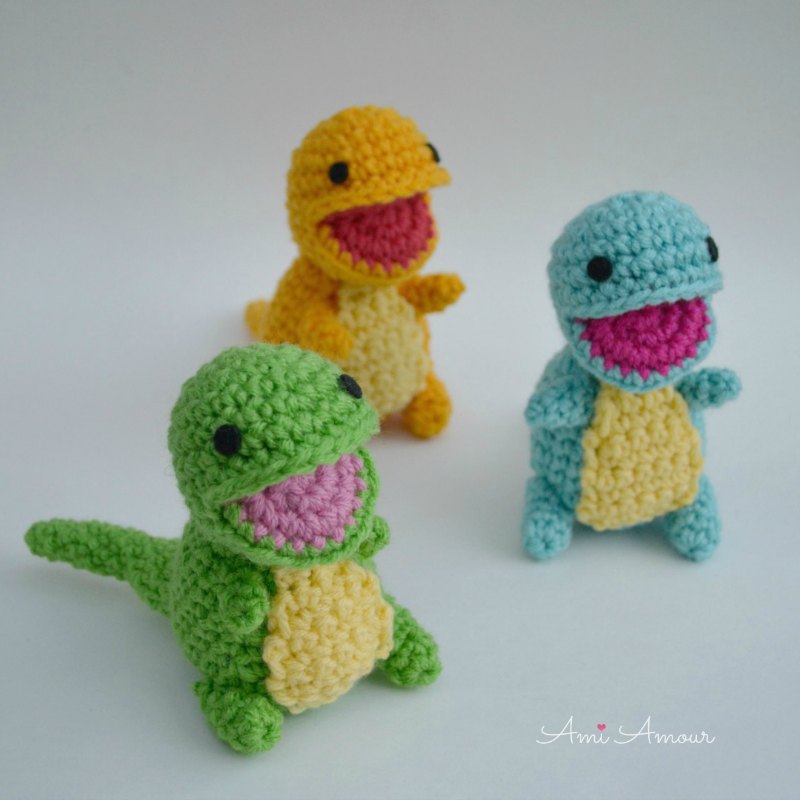 Don't want to make a large toy? Try this little 5″ baby. The pattern requires a 5mm crochet hook. Scroll down the article linked above for the pattern. You will need to start by crocheting the open mouth head that is also linked in the article.
7. Tiny Dinosaur by Green Fox Farms Designs
Here is another small dino pattern. I love the cute simplicity of it. You will need a 4mm hook (G) to make this dino.
8. Dino Papik Amigurumi by Papik
How about making this unique little guy? The glasses and sitting position set this one apart from the rest. It is a free Ravelry pattern with both an English and Spanish version. You will need a 3.0 mm hook.
Here is another free Ravelry download. This pattern requires a 3.5 mm crochet hook. I love that there are three different species in this: the brontosaurus, stegosaurus, and triceratops. I find the way she designed the crown (?) on the triceratops to be very clever.
I love that this pattern is floppy and rag doll-like. This pterodactyl is about 5″ tall with a 7″ wingspan. The author even has a hashtag you can use to share your finished product!
Other Dino Patterns
This children's hat pattern is downloadable. You need sport wool yarn and both H and G crochet hooks.
12. Dinosaur Hat by Maria's Blue Crayon
This incredible hat fits a child with a head circumference of about 20″. If you wanted to make a larger one, try following her block pattern with another beanie pattern in your desired size. You will need a K and J size crochet hook.
I love that the designer of this hat used a shaded green yarn. It creates a scaly effect that is perfect for a dinosaur. You need DK weight yarn and a 4.5 mm hook for this hat.
You need a J and M crochet hook or size needed to obtain gauge and baby blanket yarn. This tail blanket is designed to fit children ages 4-8. It has an approximate circumference of 47″ and length of 50″ (about 4 ft.). Where can I find one in an adult size??
Make this adorable pajama eater for your kiddo's next sleepover. You will use a size 4(G) and size 5(H) hook. You will also want to grab some soft baby blanket yarn. This pajama eater might just be cuddlier than their pajamas!
Just in time for the holidays! Crochet your dino lover a new scaly stocking for the mantle. You will need a 5.5mm hook, though I am sure this can be adjusted up or down as long as you are okay with slightly different gauge/size results.
Here is another fantastic pattern by Maria's Blue Crayon. This blanket will be about 40″x48″ if you use the same yarn weight and hooks. The hooks that Maria uses are the J/6.00mm hook, the G/4.00mm hook, and the C/2.75mm hook. You can always apply the dino appliqués to your own favorite blanket pattern to make a one of a kind dino blanket.
This adorable dino backpack requires a 4.0mm and 5.00mm crochet hook. The author of the pattern gives very detailed instructions as well as a video tutorial.
The link above is for a 5/6T sweater. There is also a 3/4T pattern here. Both patterns require a size K hook. Access other great patterns at Kitty's Kreation Boutique here.
I am in love with this puppet! The pattern has an English translation under the original Polish pattern. You will need a 3.00mm hook. I cannot wait to crochet this to use at my teaching job! What a fun dino.
Okay! That's it. Comment below if you try any of these dino patterns out and let me know how it goes! Happy crocheting!